NEW CREATION CHURCH
USHER MINISTRY

Mission Statement:
To serve God and the Church as Doorkeepers by helping to create an atmosphere that prepares people to hear and receive the Word of God.
The role of an Usher is a volunteer for:
Weekly Services:
o  Sundays – 6:00 AM, 8:00 AM and 11:15 AM
o  Wednesdays – 7:00 PM Praise on Wednesday (POW)
Annual Day Programs and Conferences
Home Going and Memorial Services
Special Events
Meetings‐Rehearsal Schedule
Meeting:   Every 4th Tuesday, 7:00 PM – 8:00 PM in Founders Chapel. Rehearsal: Every 1st Saturday, 11:30 AM – 1:00 PM in the Sanctuary.
Membership:
Adult Usher Ministry:
  Membership is open to all New Creation members in good standing ages 18 years and older.
Junior‐Youth Ministry:       
Junior Ushers 7 yrs. ‐ 12 yrs. .
Youth Ushers 13 yrs. ‐ 18 yrs.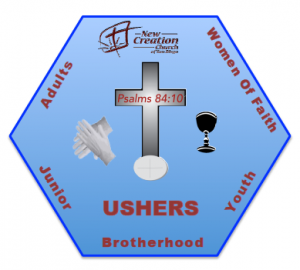 The motto of every Usher should be:
If every Usher were just like me, what would this Usher Board be…?